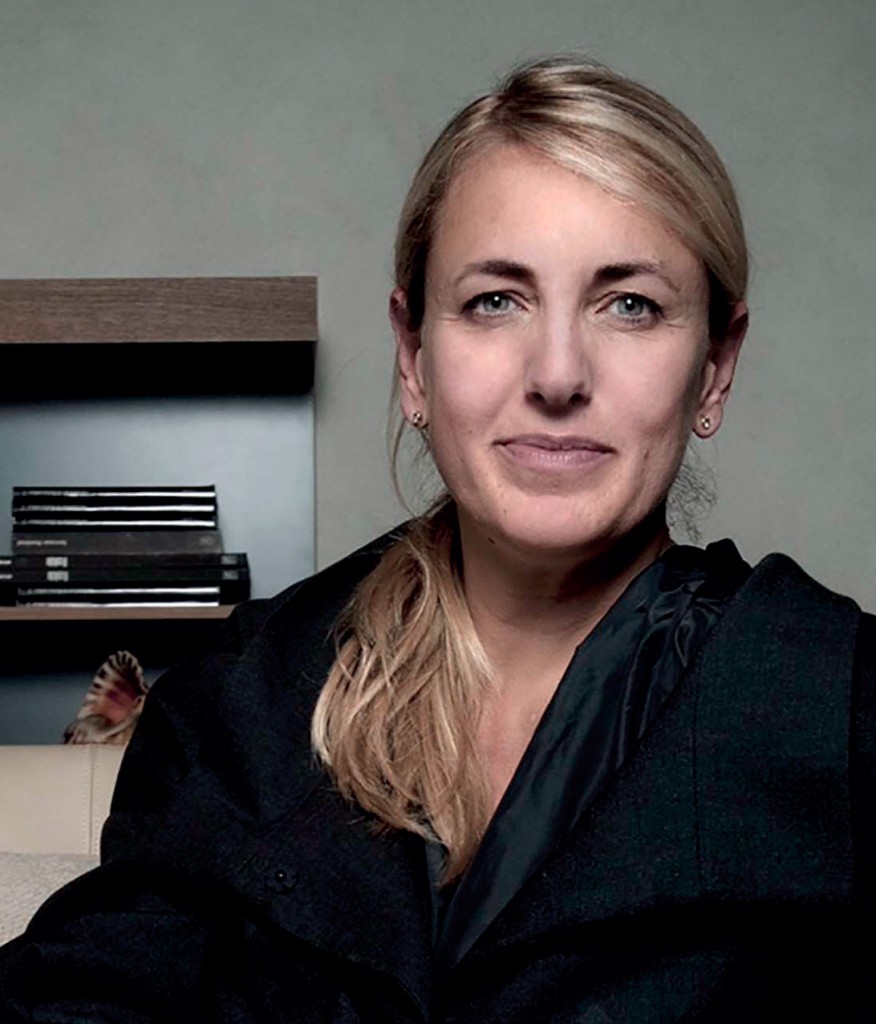 How did you end up in the world of interior design?
Since my adolescence it was clear to me I wanted to study architecture .I left Asturias and went to the Politecnico de Madrid and from there I went to the Politecnico de Arquitectura de Milano ,where I finished my career.I did my final project with Achille Castiglioni with a thesis that included architecture and industrial design .Since then I happily face and exchange these two professions and consider the interior design to be part of the Architecture.
What kind of sensations do you want your work to transmit?
The only sensations which I really believe in an therefore the ones I try to transmit in a space that I suggest ,are the ones that will accompany you when you leave ,when you walk away from it.It is in such a feeling of mental comfort that a place leaves on you and it is printed in your emotional memory…That is where we need to be working.This is where the difference is.I remember some American clients obsessed in a certain "waohh" factor(beginning of the first sight impression )and I remember calmly discussing with them about my diversity of point of view.
The "era of the display" is running out and is being replaced by a more complex one that includes a lot more sensory factors.The complexity is something very interesting ,something very different from complication ,which however,has a negative meaning.
The project is to deal with and even enjoy the complexity and try to translate it into making it natural.The designer is the opposite of a specialist ,someone who has to analyze and respond with solutions that are confronted with aspects not only architectural but also sociological ,artistic,technological…
Tell me 3 projects that the recall or visit produce great satisfaction on you:
Mandarin Oriental Barcelona because it was my first hotel and belonging to a luxury hotel chain proved to be a very complex first circumstance(we have added another building to the hotel ,with new suites)but it was a happy process,because they believed in us.
Refurbishing a liberty building (an old industrial workshop) in the interior of a Milanese courtyard with two levels ,home/study.We just finished it three years ago ,with a secret roof-garden .It was a dream come true.
And recently "Heart"in Ibiza ,a project of great innovation in all its aspect.The project of architecture is only a part of a more complex project .Such process has given rise to an interdisciplinary scenario that creates a new dialogue between the avant -garde culinary ,the different expressions of the contemporary art and interior design .
Which is the biggest difficulty an interior designer has to face?
The management of complexity in a purposeful and natural manner .I do not usually think in terms of difficulty .I rather always try to insist on finding the best relation of quality, naturalness and innovation between the various elements of the project .It is a formula that always combines the social evolution of the people ,the habitat itself and the necessary objects or instruments.
Tell me 3 buildings in Ibiza you would really like to change:
I do not think in those terms, but I can give you and example .I hope they would be very careful with the renovation of the Montesol Hotel .It meant a lot and has an emotional value for the city of Ibiza,it is just an example of a cultural and sociological heritage and we should not trivialize and lose it.The same with the Parador Nacional in Dalt Vila ,which is abandoned there…..
Can you be creative and innovative while respecting the essence of a rustic farmhouse?
Yes ,absolutely.They are two arguments that people should not quarrel about ,on the contrary,I would say that there is a need….
What do you expect from the materials used in your projects?
To correspond with the place and with the type of construction and if there are pragmatic licences they should be justified and turn out to be natural in the process.
To interact with the natural light well ,to filter it ,to reflect it ,to know how to dramatize it or tinge it according to the occasion…
To provide tactile sensations ,to have quality in their own texture and not only visual qualities.
Great naturalness in the contribution of colour in the spaces ,use it only when necessary and always base on the light. You have to feel if it requires more or less density of colour or simply absence.
Imagine you are going to build your family house. Where would you make it …what materials would you choose for paving and coating?
I do not know .You make me think of our family home in Ibiza .It is a rustic farmhouse that grew up with us .It accompanies me since my adolescence .The "operating milking machines"as we call them here ,the volumes of stone and lime ,with roofs of "sabinas " and algae were little by little transformed like us…
Even so ,my reference house is one ,and it is located in Milan,the floors are of a thick oak wooden flooring and the walls of cement.
Where would you like Ibiza to be heading to…. on a urban and architectural level?
It is clear that not only I,but we all want to protect as much as possible the rural heritage of the island and this entails so many things .And on the one hand ,on a urban level try to renovate absolutely degraded areas and on the other hand increase the quality of the areas that are undergoing an expansion;, do more pedestrian areas. Also, protect the balances in relation to the coasts and beaches ,always more sensitive. There are so many topics ,we would have to restart another interview.
Back to Ibiza Design Magazine